Chamber marks 2015 accomplishments, looks to 2016
By Tony Ends
Editor
BRODHEAD – Chamber of Commerce members drew together for their 68th annual meeting and banquet last week.
President Michele Benesh welcomed the capacity crowd to the main dining room at Fib's North on Exchange Street.
The board honored outgoing board members Shirley Liska, for her service as secretary, success in gathering volunteers for Chamber events and gracious hosting of Chamber meetings in her home, and Dan Palan, for his participation as a director and for coordinating and chairing the Covered Bridge Days Festival.
"Shirley has volunteered to keep hosting Chamber meetings," Benesh said. "Dan has said he's going to continue chairing the Covered Bridge Festival 2 more years and then retire.
"For the festival he says he doesn't really do that much – just gets commitments from a number of people to take on tasks to make it all work. His synchronized grocery cart drill team is a site to behold."
Dusty and Roxy Kubly received the Service to the Chamber Award for outstanding work and support of the Chamber. The Kubly's were especially honored for making their Wheels to Prosper award of a completely refurbished car to a worthy person in need, an annual part of Brodhead's Fire and Ice Festival in December.
"Theirs is the only auto shop in Wisconsin doing this," Benesh noted. "Roxy also is to be thanked for lining up all of the downtown vendors during Covered Bridge Days. Dusty is working hard to push adoption of an ATV trail across Green County to Brodhead."
John and Jaine Winters received the Chamber's Community Service Award for their bike ride across the United States as a benefit for the Pearl Island Recreational Corridor. Benesh commended the pair for investing a lot of their own personal resources and time in making the cross-country trip a success.
"All of our festivals were successful," Benesh reported in summary of 2015 Chamber accomplishments. A run/walk for the Pearl Island project had also succeeded in raising $1,750, which was matched for a total of $3,500 toward the initiative.
Among other highlights of the year's accomplishments Benesh shared were addition of a rare plane attraction to the Fire and Ice Fest, exhibited by curator Pat Weeden of Alfred and Lois Kelch Aviation Museum at Brodhead Airport; the bandstand renovation in Veteran's Park (an idea Nancy Sutherland helped promote and championed to successful completion) and more than doubling in dollar participation of Brodhead Bucks to more than $5,500, increasing support of local businesses, tracked by Linda Wahl.
New directors of the board are Melissa McNeese, secretary, and Rich Vogel, replacing Shirley Liska and Dan Palan, whose terms had expired.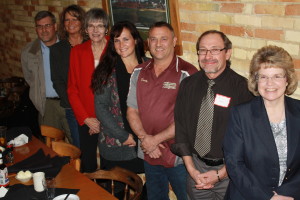 Chamber officers, from left, are Randy Menzel, Cathy Disch – Vice-president, Michele Benesh – President, Melissa McNeese – Secretary, Dusty Kubly, Rich Vogel, and Linda Wahl.  Melissa and Rich are the two new directors, replacing Shirley Liska and Dan Palan, whose terms expired.
Among Chamber members honored for 2015 service were Dusty and Roxy Kubly, Shirley Liska and Dan Palan.
68th annual banquet and dinner included a coronation of sorts for a very good-natured, good sport – Mayor Doug Pinnow. See what fun you missed!