They Came from Clinton . . . Phil Corral
By Audrey Buchanan
Clinton School District
This is the second in a series of articles about Clinton Schools alumni and where they are today.
CLINTON – Phil Corral, a 2015 Clinton High School graduate, recently returned from three months in Thailand where he was teaching English to the local students. Corral is a bilingual speaker himself, being fluent in Spanish and English.
Corral found this opportunity through "Work Away," an organization that looks for volunteers from all over the world to help teach in various areas such as languages, construction, and environmental causes. Their website, workaway.org, offers more information regarding the organization and the opportunities provided.
Corral learned of the organization from a friend. Having interest in pursuing a career in education, Corral felt this would be not only a wonderful opportunity to discover if teaching is really want he wants to do, but also an amazing opportunity to travel and experience another culture.
Corral's main purpose was to gain teaching experience. He is attending Blackhawk Technical College and studying in the area of Early Childhood Education. He plans to transfer to UW-Whitewater to complete his degree. He felt the experience he could gain teaching young students to speak English would be tremendously valuable to his future.
Corral first stayed in Phitsanulok, a city in upper northern Thailand, where he taught at a privately owned school. The owner did not agree with the teaching structure in Thailand so he opened his own school to facilitate a different teaching approach.
Corral taught 10-12 students between the ages of 7 and 12. He also taught at another private school called Chang Saen, also the name of the city where it is located. At that school he had 18-24 students between the ages of six and 14.
While in Thailand, Corral stayed with a host family, who were actually the owners of one of the schools where he taught. The husband and wife operated the school. They and their two year old daughter became Corral's family away from home.
While there, Corral met a teacher from Louisiana who had been teaching in Thailand for 20 years. Corral commented, "He showed me the ins and outs of teaching there. He was very helpful."
Corral soon found that teaching is the right decision for him, commenting, "I loved it over there! It confirmed that teaching is what I want to do. I wanted to go to school in the morning. I loved being greeted by 'Good morning teacher Phil' as the students said it enthusiastically in unison every morning."
Corral noticed a lot of cultural differences. One that really struck him was the high amount of respect that students in Thailand have for teachers. The Thai students look up to teachers and hold them in very high regard, much more so than some students seem to in the United States.
Corral paid all of his own expenses. There were no grants or scholarships offered, but he feels it was worth every penny. He highly recommends others take this experience as well. It was a wonderful way to travel and immerse into the culture and live with the Thai people. Corral found the country to be very beautiful and he learned how to cook some authentic Thai food.
This was Corral's first time flying in an airplane. He stated, "It was quite a scary experience but also exciting." When making the decision to go, he decided to just "jump in and see what happens."
Corral added, "It was an amazing trip. I'm glad I did it. I have no regrets. If anyone has ever thought about traveling or volunteering, it is definitely worthwhile."
Corral developed his interest in teaching after being inspired by Mr. Frank Crivello, a teacher at Clinton High School. Corral stated, "I have always looked up to Mr. Crivello as an inspiration. I want to make an impact in the same way he does with his students."
Corral would like to visit Thailand again once he completes his degree. He thought about going to Bangkok to teach. He is focused on completing his degree, and after that he could end up anywhere in the world teaching children.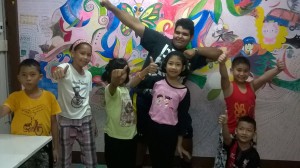 Courtesy photo
Phil Corral gathers with some of his students in Thailand for a group photo.