They came from Clinton: Dustin Esselman made technology a career
By Audrey Buchannan
Clinton School District
This is the fourth in a series of stories about Clinton schools alumni and where they are today.
CLINTON – Dustin Esselman, a 2008 graduate of Clinton High School, is the Director of Information Technology (IT) for Quest Products in Pleasant Prairie, Wis. Quest Products is a multi-faceted Consumer Packaged Goods company managing wholly owned brands, distributing over 100 national brands, selling to retail and online stores, providing dropship services and managing retail websites.
As the company is growing Esselman is the first IT Director hired by Quest, and is overall responsible for everything IT related for the company. His biggest responsibility and project this year is implementing a new Enterprise Resource Planning (ERP) system.
Esselman developed his strong interest in technology while attending Clinton High School. As a middle school student, Esselman was a bit of mischievous child who violated the technology use policy set in place by the school district.
As a consequence, he was banned computer access to any school district equipment. Once he entered high school, Sally Barrington, the district's IT Coordinator, recognized his interest and intelligence in the area of computers and technology.
After speaking with Rebecca Nodorft, who was the Superintendent at the time, they decided to put his skills to work for positive, more helpful purposes. Barrington took Esselman under her wing and taught him the ins and outs of integrated technology and application.
Under Barrington's supervision, Esselman assisted her in teaching a computer tech class after masterfully completing the class himself. He thrived in this area, eagerly learning everything he could learn.
During his time as a student at Clinton High School he worked at all three buildings, and set up multiple computer labs and teacher machines to assist Barrington. The knowledge he gained while working with Barrington earned him an internship with Scot Forge when he was just 17 years old.
Esselman was part of a school-to-work program, leaving high school just after lunch to go to the Clinton plant and work to earn school credit, and also earn a small salary from Scot Forge.
After graduating from high school, Esselman was hired full-time at Scot Forge, where he continued to be a dedicated employee owner for about seven years. During his time at Scot Forge Esselman was exposed to several projects, not just in IT, but also in the area of Sales and Marketing.
This included actively participating in political events. Following his employment at Scot Forge, he then went to work for a publishing firm in Fort Atkinson, where he stayed for just over one year, until accepting his current position with Quest Products.
Esselman also took some courses in business administration at McHenry County College. He is a firm believer in education, but realizes that education comes in all forms, not just in pursuing a college degree.
For him, and for many others, on on-the-job training, internships, and apprenticeships are a better fit. People who follow this path can become very successful in their chosen field, and can earn a very good living in their trade.
Other areas of interest for Esselman include serving on the Clinton Community School District Board of Education. Esselman current holds the role as Vice President and is the youngest board member ever to be elected, having joined the board at the age of 24.
Esselman is very involved and likes to go to the schools unexpectedly from time to time during the day to visit with staff and see what is happening in the class rooms. Esselman was also very well known for his musical talent on the drums.
He studied under the direction of Ann Harsevoort and Kay Schultz while in middle school and high school. He played for several events, and was once selected to play for an honors band under the direction of UW-Madison Band Director, Mike Leckrone. Recently Esselman returned to Clinton High School and joined other alumni to play in a special alumni pep band performance at a high school basketball game.
Esselman would like to thank his family, Rebecca Nodorft and Sally Barrington for their faith and confidence in him. He believes it was their belief in him, and their support and direction, that led him to the success he has experienced in his career.
He also believes that he was fortunate to attend Clinton High School, because the small school setting made it possible for him to have opportunities he may not have otherwise been offered.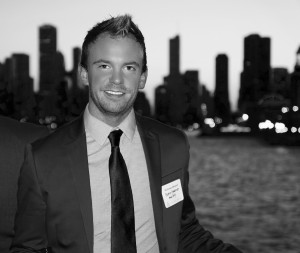 Courtesy photo
Dustin Esselman, a 2008 graduate of Clinton High School, is the Director of Information Technology (IT) for Quest Products in Pleasant Prairie, Wis.