Brodhead High celebrates Cinco de Mayo through dance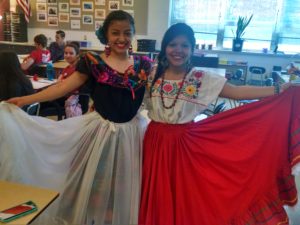 By Melody Pope, Correspondent
BRODHEAD – In honor of Cinco de Mayo, May 5, Karen Bueno and Magali Jimenez, Brodhead high school students, perform "Jarabe Tapatio" for the Spanish 2 class.
"Jarabe Tapatio" is also referred to as the "Mexican Hat Dance."
Historically, it was performed by a pair of Mexican women, like Bueno and Jimenez. This was to avoid disapproval of the church that would follow a male-and-female couple.
Before the Mexican War of Independence, male-and-female couples began to perform the dance.  Pick up this week's print edition for full story….