They Came from Clinton . . . Bill Lock and Julie Michels, Culver's Owners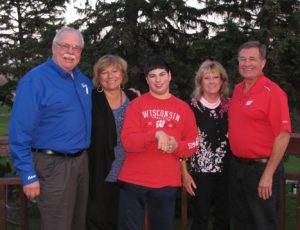 By Audrey Buchanan
Clinton School District
This is the 14th in a series about Clinton alumni and where they are today.
Bill Lock and Julie (McGinnis) Michels, both 1971 graduates from Clinton High School, have found their career success as owners of Culver's restaurants.
Bill currently owns the Culver's in Beloit and in Huntley, Ill., along with Papa Murphy's Pizza, and The Rock, both also located in Beloit. Julie and her husband, Don, own three Culver's restaurants in Illinois, one each in Carpentersville, Aurora, and South Elgin. Their journey in getting to where they are today has been intertwined since high school.
Bill and Julie were friends all throughout high school. Following graduation, Bill attended Blackhawk Technical College for two years and obtained an associates degree in Marketing and Business.
Julie attended Madison Business College for one year, met Don, fell in love, got married, and moved to Montana to go into business with Don's parents.
Don has a degree in sales administration. After some time in Montana, the two realized that things were not working for them, and with only $200-$300 dollars to their name, they moved back to Wisconsin.
Julie was hired to work for SuperAmerica in Janesville in 1978. Bill was already the manager for SuperAmerica in Beloit, and was soon promoted to area manager. Julie explained that she was "thrown into store managership" sometime in 1981 when the person who had been store manager left the company.
She felt very unprepared to be a store manager, and called Bill for advice. Julie was promoted to area manager in 1985. The company moved her and Don to Hortonville so she could manage the Appleton area.
She quit working for SuperAmerica in 1990 and went to work for a candy broker until 1994. She was then offered a job with Cenex Land-O-Lakes and offered her a consultant position in their oil division to work with their convenience stores in North Eastern Wisconsin until 1998. She left that to work for Q-Mart in Sheboygan where she supervised nine locations, which allowed her to stay home more with her children.
In the meantime, Bill left SuperAmerica, explaining, "SuperAmerica was a great company to work for, but there was no opportunity for me to advance any further."
Bill had been talking to a broker who purchased land for SuperAmerica, who was familiar with the up and coming Culver's business. He planted the idea in Bill's mind that maybe opening a Culver's would be a smart business move.
Bill had a friend, Jim Agate, who was working at a Wendy's that just happened to be close to a new Culver's that had opened, and soon the Wendy's business began to decline.
Jim had been thinking of opening a Dairy Queen, but those plans fell through. Bill and Jim asked the broker to contact Craig Culver, the founder of Culver's, who then met with them.
Bill and Jim convinced Craig Culver that there needed to be a Culver's restaurant in Beloit. Craig Culver was a bit hesitant until while touring Beloit, he noticed the Bud Weiser car dealership and stated, "Any town that has a car dealership named after a beer definitely needs to have a Culver's restaurant!"
The Beloit location opened Jan. 28, 1998.
On Sept. 11, 2000, Bill opened his second Culver's restaurant in Huntley, Ill. He contacted Don and spoke with him about the two of them working together at this location. Julie, being tired of her current job, spoke with Bill about getting involved with his Culver's business. She and Don had always wanted to own their own business but had never found the right opportunity. Don commented, "Bill and Julie have always had ideas that go outside the box. They're very creative in the business world."
Julie added, "Bill has an eye for success."
Bill was planning a grand celebration to honor their one-year anniversary of the opening of their Huntley store, but all plans were canceled when the attack on the twin towers occurred that same day. Julie began working at the Huntley location in December 2001, through a mentoring program to help prepare her for eventual ownership of her own restaurant. Don stayed in Hortonville until their son graduated from high school in 2002 before joining Julie.
Bill stated that it was very helpful to have Julie there to manage the store. He was having trouble developing a team, and Julie learned quickly and helped to improve things.
Bill also added, "My mother was a tremendous support during this time in my life. She stayed with my young daughter and son while Jim and I traveled for work, growing our business."
On May 12, 2003, Julie, Don, Bill, and Jim opened a Culver's in Carpentersville, Ill. They each owned one-quarter interest in the business.
The first few years in business were very successful, but when the economy began to decline, the 2007 and 2008 fiscal years were very grim for the restaurant business.
The partners realized there was not enough revenue to support all four of them, and in 2009 decided that Julie and Don would purchase the share owned by Bill and Jim. This was the only way they could help to guarantee that the store could stay open.
As Don said, "We hate to see a location close for any reason. We wanted to be able to keep it open, so we did what we had to do." They worked hard and eventually increased their revenue and turned it into a once again successful business.
In the meantime, Bill had other business plans in the works. In 2007 he purchased Papa Murphy's in Beloit. The business was in trouble and had closed. Bill stated, "I hate to see anything close when it offers a good product. I purchased it to create opportunities and jobs for others."
He hired Joshua Churchill, a 2004 graduate of Clinton High School to manage the store, and it soon became a profitable business once again. Joshua stayed with the company, but moved up the ranks and now works in Madison at the corporate office.
In 2008, Bill and Jim purchased The Rock, a bar and grill in Beloit that sits on the Rock River. Bill explained, "I had an excess of good managers and needed to find a place for them to work. Purchasing The Rock created opportunities for my managers so I didn't lose them to another employer."
Don commented, "As you become more successful, you want others to also be successful."
Bill added, "You don't think of yourself. You think of the opportunities you can create for others and help to build them up."
In 2014, Julie and Don purchased a failing Culver's in Aurora, Ill. and brought it back to life. They cleaned and remodeled it and made it into a place where people enjoyed visiting.
In 2015, Julie and Don acquired a third Culver's restaurant. The owner of the South Elgin location was having health problems and wanted to sell.
Julie and Don were happy to purchase it. Ironically, they had looked at this exact location prior to purchasing the restaurant in Carpentersville, but the area was not as developed then as it is now, so they chose Carpentersville instead at that time.
Julie commented, "We have 95 employees between the three stores. The part of the business I'm most proud of is that I can offer people a good job, pay them a decent wage, and provide a safe and friendly working environment. Some employees stay for a long time. If you take care of your people, they will also take care of you."
Julie reflected on her "most famous employee," Siera Dunn. Siera was B.B. King's great-granddaughter. Each summer, Siera had to take three weeks off to tour with B.B. King, who had a policy that he did not give autographs. Julie asked several times for Siera to try to get B.B.'s autograph for her. Finally one summer, Siera returned from a tour with an autographed poster for Julie.
Helping people is something Bill does often. One of his employees, Julia Smith, has been with him since the beginning when his Beloit location first opened, explaining, "She is my hospitality queen."
Julia's son, Eugene Smith, a 1981 Clinton High School graduate, opened a Culver's with Bill and Jim in Twin Falls, Idaho, two years ago. This store is the farthest western location. Eugene will soon be opening a second store in Idaho Falls, Idaho. Eugene's son, Steve, will be breaking ground this summer to build a new Culver's restaurant in Boise, Idaho. They will then be a three-generation Culver's family.
Margaret Janke, a 1983 Clinton High School graduate, is the accountant who handles all financial records for all of Bill's and Julie's locations. "She was our accountant from day one," Julie proudly exclaimed. Julie also wanted to recognize the help and support they have received from their banker, Scott Zimmerman, adding, "We couldn't have done all of this without him."
Culver's as a corporation is very interested in helping their employees build successful futures. College scholarships are available for employees through the corporate office and locally. Last year, corporate Culver's gave away $490,000 in scholarships to employees continuing their education.
The Beloit Culver's rewards internal scholarships to their employees. They track the time that a high school student works for Culver's, and if they are still working at Culver's when they enter college, Culver's will award them $50 per quarter, for every quarter they worked for the company while in high school.
For some, this could be as much as $800. Students have to also come back and work for the restaurant while on break from college. This helps the business and helps the student know they will have a job between semesters.
The Culver's in Beloit also provided coupons for free kids' meals, free Concrete Mixers, free value baskets, and more to the schools to use as incentives and rewards for positive behaviors.
Bill truly believes in giving back to the community from where he came, and to the community where is currently does business. Julie and
Don also give back to the communities in which their Culver's restaurants are located.
Don added, "When we originally got into the franchise, the purpose was to make money, but now we look at it and think, 'Who can we help next?'"
Other programs that Bill, Jim, Julie and Don take part in with their Culver's businesses include Scoopie night fundraisers for clubs and organizations, the "Thank You Farmers" event, Cruise Nights, and Scoopie visits to schools, community functions, sporting events, and fairgrounds. One of their most meaningful programs involves the Mark Finnegan and VetsRoll, honoring the nation's veterans. Once each year, Culver's displays flags all around their stores. Each flag represents a fallen veteran from the community since 9-11.
Bill stated, "We always try to pay it forward. It's not a job. It's fun. When it becomes a job then it's time to retire."
Bill and his wife, Linda, have four children. Lindsay began working at her father's Culver's when she was 16 years old, and has since moved on to pursue other interests. Josh began working at Culver's when he was 14 years old. It is the only job he has ever had, and is now a manager. Nate is attending UW-Whitewater, but works there during breaks, and Justin currently works at the Beloit location also.
Julie and Don have two children. Serena began working at their Carpentersville location, and worked part-time while attending college. She is now their area manager. Gavin worked for his parents part-time while attending college, and is now an electrician in Milwaukee.
Future plans for the business partners are to continue to develop their Culver's family, one restaurant at a time. They believe in the company and what it stands for. They have witnessed the way in which the company is made up of people helping people. They explained that the Janesville store owners have done the same type of community service and growing their business by helping others.
Don commented, "The franchise recognizes people for what they do well. You don't always see that in other corporations."
Bill explained, "When we have conventions, we don't call them conventions. We call them reunions."
Juile added and the others agreed, "We are truly blessed."