Phyllis J. Johnson, 89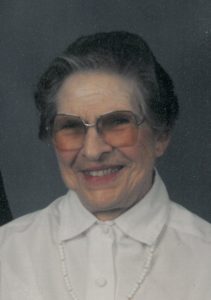 CLINTON – Phyllis J. Johnson, 89 died Sunday May 22, 2016. She was born June 25, 1926 to the late Ellery and Elsie (Reimer) Holcomb in Harrison Township in Winnebago County.
She graduated from Clinton High school, class of 1944. Phyllis attended UW Madison for one year until her mother died and returned to Clinton to care for her family. She married Rex Johnson on Nov. 30, 1950 in Clinton.
He preceded her in death on January 2, 2015. Phyllis was a lifetime member of Shopiere Congregational Church and served on the Ladies Aide Society. She worked at McNeeny's for a short period until she joined the Food Service department in the Clinton School District in 1965.
Phyllis worked for the school district for 40 years until her retirement in 2006. She farmed with Rex as an active farmer's wife in the Clinton area raising purebred Berkshire hogs and Shorthorn cattle and could be regularly found driving the tractor for the baler.  Phyllis was a member of the Turtle Homemakers and active as a Turtle 4-H Leader for 40 years.
Phyllis is survived by her brother, Fay (Marlene) Holcomb; three brothers-in-law, Nick Nielson, Bob Cook and Vaughn (Judy) Johnson; and her nieces and nephews, Aileen (Greg) Vogel, Steven (Becky) Holcomb, Connie Gaston, Becky Holcomb, Dennis (Marianne) Nielson, Debbie (Tony) Cefalu, Donna (Dallas) Insko, Dixie (Sam) Bennett, Rick Holcomb, Tim (Linda) Holcomb, Bruce (Bernie) Holcomb, Greg (Sheri) Holcomb, Brad Holcomb, Bob Holcomb, Gary (Diane) Cook, Teresa (Bill) Lechner, Daniel (Amy) Cook, Stanley (Tammy) Cook, Jill (Eric) Swanson and Jana (Jason) Henschler.
She was preceded in death by her husband Rex, her parents, two brothers, Vernon and John, three sisters, Laona, Marcia and Donna and a niece Cindy.
The family wants to sincerely thank the caring staff at Milton Senior Living  and Agrace Hospice.
Phyllis's Funeral Service will be at 11 a.m. Tuesday May 31, 2016 at Shopiere Congregational Church, 5328 E. Church St., Shopiere with Rev. Norman Starks officiating.
Friends will be received on Tuesday at Church from 10 a.m. until the time of service.  Interment will take place in Clinton Cemetery. In lieu of flowers, memorials may be directed to Shopiere Congregational Church. Please share a memory or a condolence with the Johnson family on our website.
BRIAN G. MARK
Funeral Homes
1000 Inman Parkway
Beloit  362-2000