Londa L. Moldenhauer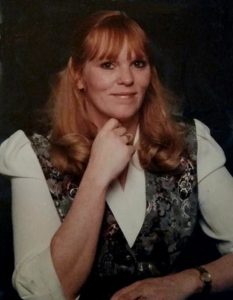 Londa L. Moldenhauer, 53, of Brodhead, passed away on Tuesday, Oct. 18, 2016, at Mercy Hospital in Janesville, Wis.   She was born on July 27, 1963, in Monroe, the daughter of Donald and Janice (Burtness) LaRue.  She married David D. Moldenhauer on March 14, 1994.
Londa was a homemaker.  She had volunteered for the Second Harvest Food Bank and The River Food Pantry, both of Dane County.
She is survived by her husband, David; five children, Cassandra Tomczak, of Janesville, Chad Folstad, Shelby, Austin and Anthony Moldenhauer, all of Brodhead; a grandson, Gabriel Tomczak; four nieces, and a nephew.  She was preceded in death by her parents, a sister, Donna, and her maternal grandparents.
Funeral services were held at 1 p.m., Saturday, Oct. 22, at the D.L. Newcomer Funeral Home in Brodhead.  A visitation was held from noon until the time of services at the funeral home.  Burial was in Greenwood Cemetery in Brodhead.
Online condolences may be made at www.dlnewcomerfuneralhome.com.