Bradley W. Britt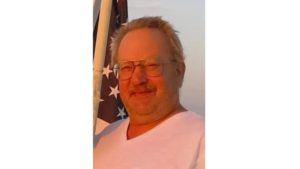 Bradley W. Britt, 57, of Lake Summerset in Davis, Ill., passed away on Monday, Dec. 19, 2016, due to an automobile accident near Janesville, Wis.  He was born on Sept. 22, 1959, in Blue Island, Ill., the son of William and Janice (Pofahl) Britt.   He married Lisa Stefka on Nov. 22, 1986, in Downers Grove, Ill.
Brad is survived by his wife, Lisa, and two sons, Nicholas and Mitchell Britt, all of Davis, Ill.; his mother, Janice Britt, Eagle River, Wis.; three brothers, Bruce, Kurt, and Todd Britt; in-laws, Adrienne and Frank Stefka, Kathy (Paul) Metta, and Janice (Jim) Serratt; and nieces and nephews, Tyler and Megan Seratt, Alec and Mason Metta, and Jonathan, Matthew, and Ashley Britt.
He enjoyed a successful career as an auto mechanic, a distinguished Master Technician of Nissan for over 30 years, and a Master Technician for Toyota.  He was most recently employed by Janesville Nissan.  He was known by all to have the ability to fix anything.
Brad enjoyed being outdoors with family and friends, whether snowmobiling in Eagle River, boating and fishing on the lake, or camping with family in 'GiGi.'  He enjoyed traveling to the track to watch his sons race motor-cross and riding around the lake in the golf cart with his wife.
Brad was an honest, gracious, and loving man.  He had a great many friends, and his loving care and generosity extended far beyond his family.  He will be deeply missed by everyone who knew him.
A Celebration of Life will be held at a later date.  In lieu of flowers, a memorial fund will be established.  The D.L. Newcomer Funeral Home in Brodhead is assisting the family.  Online condolences may be made at www.dlnewcomerfuneralhome.com.