Lady Cards break losing streak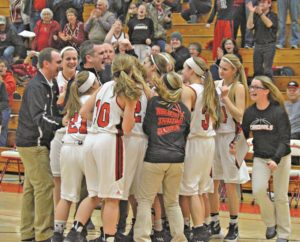 By Derek Hoesly, Correspondent
The Cardinals snapped their four-game losing streak in dramatic fashion as sophomore Alexis Oliver drilled a game-winning jumper at the buzzer to give Brodhead a 63-61 win over Oregon last Thursday.
Oregon struck first, jumping out to a 5-0 lead. Trailing 6-2, the Cardinals went on an 8-0 run to go up 10-6. Senior Catherine Hazeltine converted inside and knocked down a jumper during the run. Hazeltine was an offensive threat, knocking downkey shots throughout the contest.
Pick up this week's print edition for full story….