Richard F. Kamps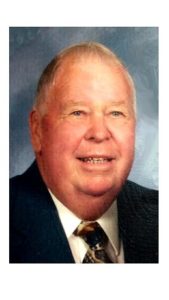 Richard F. Kamps, 86, of Brodhead, passed away on Tuesday, Dec. 20, 2016, at Pleasant View Nursing Home, Monroe, Wis.  He was born on Aug. 8, 1930, the son of LeRoy and Winifred (Hull) Kamps.  He married Ruth A. Conway on June 5, 1954, at the Congregational United Church of Christ, Brodhead.
Dick graduated from Orfordville High School in 1949.  He served in the U.S. Army during the Korean Conflict from 1951 to 1953.
He had worked at the Goldenrod Creamery, Ties Oil Co., Ties Motor Co., and Iverson Chevrolet. Dick was a school bus driver for both Brodhead and Orfordville schools and organized 13 bus tours with his wife Ruth.  He also owned and operated Kamp's County Line Beverage and The Mouse House, both of Brodhead.
Dick was a member of the Congregational United Church of Christ and the Bicknell Masonic Lodge #94, and he served on the Brodhead Fire Department for over 20 years.  He served as the president of the Brodhead Chamber of Commerce, on the Congregational United Church of Christ Council, in the Brodhead Jaycees, and in VFW Post 6858.  He also was a former Brodhead City Council member and served on the original swimming pool committee.
He and Ruth moved to Siren, Wis., in 1998, returning to Brodhead in 2010.
He is survived by his wife, Ruth; a son, Greg (Kathy) Kamps, Germantown, Wis.; a brother, Jerry  (Caroline) Kamps, Brodhead; a sister, Nancy (Jim) Bohan, Quincy, Ill.; a granddaughter, Randsell Vito; and two grandsons, Justin and Jordan (Jessica) Kamps.  He was preceded in death by his parents; a son, Randy; a brother, Ronald Kamps; three sisters, Betty Baker, Ruth Lenz Coplien, and Judy Mattison; and a special aunt, Ethel Kamps.
Funeral services wereheld at noon on Monday, Dec. 26, at the Congregational United Church of Christ, Brodhead, with Rev. David Frey officiating.  Burial was in Greenwood Cemetery, Brodhead, with military rites.  A visitation was held from 10 a.m. Monday until the time of services at the church.
In lieu of flowers, a memorial fund will be established.
Online condolences may be made at www.dlnewcomerfuneralhome.com.