Brodhead gets second win in a row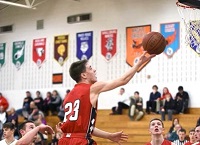 By Derek Hoesly, Correspondent –
The Brodhead Cardinals (5-8 overall, 3-5 Rock Valley) won their second straight contest with a 58-39 non-conference win over the Argyle Orioles last Monday.
The Cardinals controlled the opening half and picked apart the Orioles' 2-3 zone with precise ball movement.  Trailing 7-4, the Cardinals erupted on a 13-0 run to take command of the contest. Senior Tyler Flannery sparked the surge with a contested drive and underhand finish at the rim. Junior Parker Johnson buried a deep three, and junior Brekan Day connected from long range off a drive-and-kick from Flannery. Junior Justice Tway buried a short jumper in the paint during the stretch.
Pick up this week's print edition for the full story….