MICHAEL G. MARTIN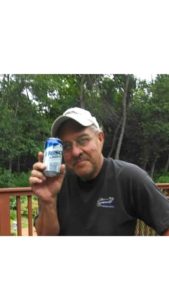 Michael G. Martin, 68, of Brodhead, passed away on Monday, Feb. 27, 2017, at the U.W. Hospital, Madison, Wis. He was born on Nov. 30, 1948, in Hustisford, Wis., the son of John "Jack" and Joyce (Darville) Martin. He married Bonnie M. Kethcart on Oct. 11, 1969, in Brodhead.
Mike graduated from Brodhead High School in 1967. His life work was with GTE and Verizon Telephone companies, retiring in 2001. He was an avid outdoorsman, especially enjoying campfires, fishing, bow hunting, and gun hunting. Mike especially loved being with family and friends.
He is survived by his wife, Bonnie, of Brodhead; a son, Aaron Michael Martin; a daughter, Michelle (Chris) McLain, both of Brodhead; three grandchildren, Karlee Ann and Fischer Michael McLain, and Charlie Michaelee Martin. He was preceded in death by his parents and a brother, Jack.
A gathering of friends and family will be held for Mike on Thursday, March 2, from 4 p.m. until 7 p.m. at the D.L. Newcomer Funeral Home, Brodhead, Wis. There will not be a formal service.
A scholarship at the Brodhead High School will be established in Mike's name.
Online condolences may be made at www.dlnewcomerfuneralhome.com.