Brodhead graduate Britta Cholke receives Life Saving Medal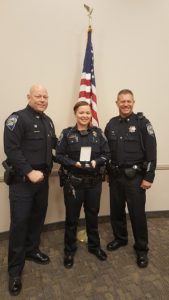 On Oct. 15, 2016, Trooper Britta (Foesch) Cholke began responding to what she believed to be a single-vehicle crash scene.  The call quickly evolved into a road rage, homicide incident.
Trooper Cholke heroically and with personal bravery rendered aid and assistance to the driver, who suffered a gunshot wound.  She applied a tourniquet to his arm, allowing him to survive the harrowing ordeal.
Pick up this week's print edition for full story….