Girls earn first place in Jim Church Invite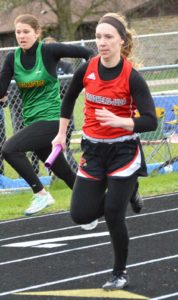 By Derek Hoesly, Correspondent –
The Cardinals hosted the annual Jim Church Invitational last Friday as 10 teams swarmed Brodhead to take part. The boys' squad placed fourth with 91 points while the girls took home the title with 127 points.
Senior Jack Speckman ran a solid race in the 100-meter dash as he earned seventh in a time of 12.1 seconds, edging Big Foot's Gursamet by .1.
Sophomore Jeff Williams secured second in the 200-meter dash with a time of 23.8 seconds.
Senior Nate Ciabatti came in seventh in the 400-meter dash with a time of 55.2 seconds.
Pick up this week's print edition for full story….