Brodhead woman counts five prom-goers as great-granddaughters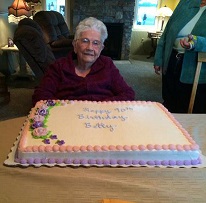 By Ryan Broege, Correspondent –
Betty Malcook recalls her prom quite well. She had to get ready at her date's brother's house on 15th Street in Brodhead because her house lacked running water. She wore a long pink dress ringed with lace around the waist. Her group dined at Cozy Inn, in west Janesville, before the dance. She arrived at prom in a Chevrolet. And her date? Floyd Malcook, known to most everyone as Bill.
A year after graduation in 1944, Betty married her prom date and moved to a farmhouse on County Highway GG by Pierce Furniture. Betty, who describes herself as a "farm girl from way back," began the work of farming and raising five children, four daughters and a son.
Pick up this week's print edition for full story….