Ladies' season ends with five errors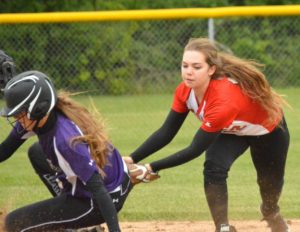 By Derek Hoesly, Correspondent –
The Cardinals' five errors sank four-seed Brodhead as five-seed Palmyra-Eagle cruised to an 11-1 victory in a WIAA Division 3 regional semifinal matchup last Wednesday.
The Palmyra-Eagle Panthers took advantage of some Cardinals mistakes in the top of the first to take a 2-0 lead. Lauren Stefanczyk drew a leadoff walk to spark the early outburst. Aby Boos then lifted a ball over Cardinal starter junior Azzy Steiner's head and in front of second baseman junior Caitlin Novy for an infield single. Three-hole hitter Gina Jrolf delivered an RBI single right back up the middle to put the Panthers up 1-0. On the play, center fielder junior Madison Ils missed the cut, and Steiner misfired to second to allow the second run to cross home plate. Steiner retired the next three Panthers to limit the damage.
Pick up this week's print edition for full story….