Relay for Life raises funds, spirits, morale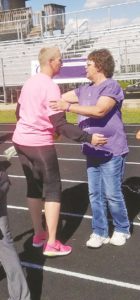 By Ryan Broege, Correspondent –
On a breezy, sun-splashed day at Larsen Field, after Josie Picard sang the final notes of the "National Anthem," the atmosphere almost felt like that of an unseasonably warm track meet.
Then Tami Jacobson, the 2017 Green County Relay for Life Honorary Survivor, held the microphone and told her own story of battling cancer. It was a story that the number of cancer survivors can understand and empathize with in a manner that those who have never been diagnosed with cancer can only politely,sympathetically gesture toward.
Jacobson was diagnosed with breast cancer in October 2016, and said the three weeks waiting for test results were the longest of her life.
Pick up this week's print edition for full story and more photos….