Brodhead-Juda falls to Clinton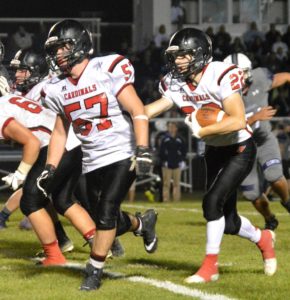 By Derek Hoesly,  Correspondent –
The Cardinals dropped their second straight game to open the 2017 season as Brodhead-Juda fell to Clinton 48-7 last Friday.
The Cougars didn't waste any time jumping on Brodhead-Juda as they scored on the opening drive. Cougars' quarterback Tyler Halsted found Steve Espinoza for a 35-yard gain. Halsted connected with Espinoza again this time on third and seven for a 22-yard gain. Halsted capped the drive with a five-yard quarterback keeper for a touchdown.
Pick up this week's print edition for full story….