Cardinals play spoiler at Edgerton homecoming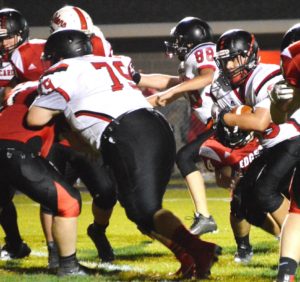 Derek Hoesly, Correspondent –
In a night that saw the Cardinals offense execute a number of big plays, Brodhead-Juda (2-4 Rock Valley, fifth place) cruised to a 50-21 Rock Valley victory last Friday.
Brodhead-Juda marched deep into Edgerton territory on their opening drive but a costly fumble wiped out the threat. Senior running back Brekan Day ripped off runs of 15 and nine-yards. Junior running back Jeffrey Williams had runs of 12 and eight-yards. Edgerton then came up with a key defensive play as Day was stripped and coughed up the football on the 17-yard line.
Pick up this week's print edition for full story….