Cardinals volleyballers trip up Trojans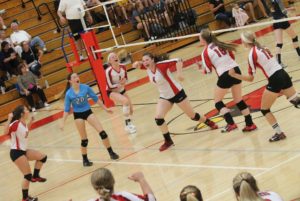 Derek Hoesly, Correspondent –
The Cardinals (18-8-1 overall, 2-2 Rock Valley) picked up a convincing three-set win 25-15, 25-15, 25-10 over rival Beloit Turner in a Rock Valley matchup last Thursday.
Brodhead raced out to a 10-3 lead in set one. Senior Chandra Clark sparked the red hot start with an outside spike. Senior Brooke Bescup and junior Alexis Oliver each found the floor with tips in the middle. Junior Abbey Johnson showed excellent court awareness with a perfectly placed dink and hammered an outside cross court kill. The Cardinals were clicking on all cyclers to open the match.
Pick up this week's print edition for full story….