Judith Schultz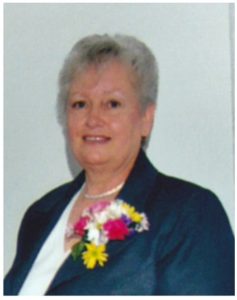 Brodhead – Judith Ann Schultz, age 78, of Monroe, formerly of Brodhead, passed away on Tuesday, November 21, 2017, at Pleasant View Nursing Home, Monroe, WI. She was born on August 16, 1939 in Waukegan, IL, the daughter of Lawrence and Pearl (Wine) Saunders. She married Leland E. Schultz on January 21, 1956. He passed away on April 5, 2014.
Judith attended Brodhead Schools and lived her life in the Brodhead area. She was a homemaker, raising five children, and also providing excellent care for her grandchildren over the years. Her first love was home and family and considered the job of wife and mother as the center of her life. Her hobbies included gardening, sewing, cooking and reading. She held many positions over the years, including APCO of Brodhead, Hormel of Beloit, and enjoyed her work as a sewing instructor at Singer.  Judith also provided excellent care for her husband for many years following his stroke.
She is survived by a daughter, Marilyn (Steven) Wilke, Brodhead; sons, Daniel (Lupe) of Beloit, Steven (Maria) of Lake Village, IN, Jeffrey (Rose) of Wiota; nine grandchildren and nine great-grandchildren. She was preceded in death by her parents, a daughter, Julie Schultz, and a brother, Lawrence Saunders.
Memorial services will be held at noon on Sunday, November 26, 2017, at the D.L. Newcomer Funeral Home, Brodhead, WI. Visitation will be held from 10 a.m., on Sunday until time of services at the funeral home. Online condolences may be made at www.dlnewcomerfuneralhome.com