Helen Charlene Domek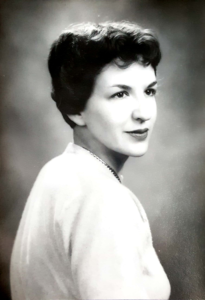 Helen Charlene Domek, 88, of Madison, formerly of Brodhead, passed away on Wednesday, Sept. 5, at her home.  She was born on Oct. 8, 1929 in Brodhead, the daughter of Joseph and Louise (Tanner) Ziltener.  She married Robert E. Domek on June 26, 1954.  He passed away on Feb. 18, 2007.
Helen was a graduate of Brodhead High School and graduated from the University of Wisconsin, Madison.  She was a homemaker, enjoyed reading, doing crossword puzzles, and spending time with her family and dog.
She is survived by her children, Doug (Mary) Domek, Tallahasse, Fla., Andrea Domek, Madison; seven grandchildren, Olivia, Michael, Sophie, Joseph, Arianna, Darian, and DeAndra; a great-granddaughter, Cecilia; a sister-in-law, Dolores Domek, Brodhead; and several nieces and nephews.
She is preceded in death by her parents, husband, a sister and five brothers.
Funeral services were held yesterday at the D.L. Newcomer Funeral Home, Brodhead, with Rev. David Frey officiating.
Burial was in Greenwood Cemetery, Brodhead.  Visitation was held at noon yesterday until time of services at the funeral home.  Online condolences may be made at www.dlnewcomerfuneralhome.com.